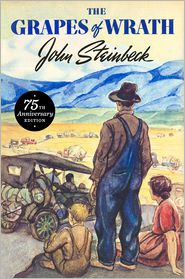 John Steinbeck loved to tell the story all his life: When enraged California growers decided to publicly burn his book detailing the mistreatment of farm workers, they had to special-order the book because there were no copies to be had.
It wasn't just the growers that Steinbeck annoyed: The famous climactic scene made the Godly mad, too.

Petulant and imbued with an inflated sense of self-importance, Rose of Sharon is the least likeable of the characters. A young newly-wed, she and her husband spend the journey to California giggling softly and dreaming of the possibilities of their new life. Her constant concern is that everything that happens to the family is related somehow to her unborn child, a concern that quickly becomes annoying. Despite her mother's interventions, Rose of Sharon draws increasingly into her own self-pity as the family's hardships mount. The bearing of her stillborn child, however, brings about a change in her character. Her breasts are full of life-giving milk and with no child to nourish, Rose of Sharon chooses to reach beyond her own considerations for the first time. She offers her milk to a stranger, a man dying of starvation. With this act, Rose of Sharon comes to represent the full circle of human unity: Despite her own position of need, she is able to give life.
Decent people, as everyone knows, don't acknowledge that women have breasts.
Steinbeck went on to become a Nobel Laureate, and his acceptance speech included this memorable smack at his critics:

Literature was not promulgated by a pale and emasculated critical priesthood singing their litanies in empty churches — nor is it a game for the cloistered elect, the tin-horn mendicants of low-calorie despair.
The Sacramento Public Library will present a public reading from the book this evening, and a panel discussion of its subsequent history of censorship.